What We Do > Steelhead > Southern Steelhead
Southern Steelhead Resources Project
The objective of the Southern Steelhead Resources Project (SSRP) is to compile, digitally archive, and analyze available data on anadromous fishes and their habitat in the Central and Southern California coastal regions (from San Mateo County to the Mexican Border) [see: SSRP Distribution Report], and to use this information to evaluate the relative importance of watersheds for salmonid recovery [see: SSRP Watersheds Evaluation]. This project is being supported by grants from the California State Coastal Conservancy and the Resources Legacy Fund Foundation.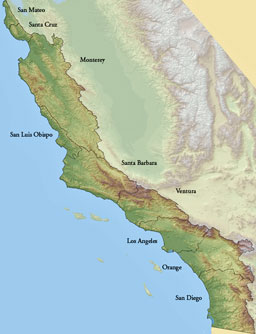 The project has been implemented in three phases: (1) compilation of a digital archive of key information sources (with archiving activities focused upon historical Department of Fish and Game materials), (2) documentation of the historical distribution and current status of salmonid populations, and (3) evaluation of the potential for watersheds to support restored salmonid populations.
Phase 1 of the program compiled and made readily accessible for public review stream surveys, habitat typing reports, biological investigations, barrier inventories, and other information that should be maintained in perpetuity but was at risk of being lost. A key source of these materials is historical documents stored in various DFG offices. Materials made available to CEMAR by custodial agencies and organizations were gathered and scanned into a digital filing system. The digitized information (over 3,800 documents) was placed on DVDs, along with software that allows the contents of the DVD to be easily searched. The DVDs are available to any interested stakeholders by contacting Krystal Wanzo at CEMAR.
Under Phase 2 of the program, compiled public data and information was analyzed by fisheries scientists to produce an assessment of current status and historical distribution of salmonids in each watershed. Patterned after CEMAR's SF Bay Steelhead Trout project, this analysis builds upon existing efforts, and relies extensively on collaboration with knowledgeable fisheries experts in central and south coastal California. The product of Phase 2 is a reviewed scientific report that can be used immediately to inform decision-making by natural resource agencies in the region. The draft report has been published. Interested parties should contact Gordon Becker for information about the report.
In Phase 3 CEMAR cooperated with fisheries experts from agency (NMFS and DFG), academic, and consulting backgrounds to develop a Restoration Opportunities Memorandum for use by the Coastal Conservancy in directing steelhead-related programs and funds. Interested parties should contact Gordon Becker for more information.
With support from the California Ocean Protection Council, CEMAR identified the most promising watersheds in the study area for restoration in the Southern Steelhead Resources Evaluation. This phase of the SSRP, modeled after the San Francisco Estuary Watersheds Evaluation, applied criteria to provide an impartial, thorough, and scientifically-defensible evaluation of the relative restoration potential of watersheds in the study area. The purpose of this evaluation was to provide guidance that may be used as the basis for on-going processes such as awarding grants and restoration planning. Limited resources exist to enforce existing regulations or implement restoration projects, and the project assessed watersheds in a manner that may be useful to government agencies as they implement their mandates relative to salmonids in California. Individuals interested in this project are encouraged to contact Dr. Andrew Gunther or Mr. Gordon Becker.